Living Mannequins / Human Mannequins
Great Human Mannequins and Living Mannequins from Electric Cabaret
Offering Versatile and Unique Mannequin Acts.
Our human mannequins and living mannequins use an array of performing styles, mime techniques
and costume possibilities that distinguish our mannequins as the best.
We can provide:
The living mannequin that incorporates mime robotic action and/or stylised movement.
The living mannequin that incorporates gentle clowning before returning to stillness as if nothing has happened.
The living Mannequin that mesmorises the audience and then breaks with convention and roams!
The living mannequin that enthrals the audience by blending the above.
Living Mannequins that come to life.

Flesh tone living mannequins.

Living Mannequins that mesmerise

and surprise.

Theming living mannequins is easy.

Most mannequin themes are possible.

More than one living human mannequin

twice the fun. We specialise in ensemble

mannequin and the possibilities it entails.

Mannequins can be in any combination

of colours. Here we have silver

mannequins for a night club party.

We have gold possibilities galore.

Mannequins welcomed Olympic athletes

for 2012.

Living Mannequins in a variety of colours.

Commissioned by UK sports

to provide gold mannequins.

Blue mannequins.
Why not add to the fun!
More than one Mannequin.
Ensemble Living Mannequins that roam!
We specialise in living mannequins working as a group, utilising mime choreography and coming to life!
More than one mannequin increases the possibilities.
Our mannequins are able to work in tandem, increasing the impact and area covered.
We specialise in mannequin ensemble, that is mannequin artists working as a tight organised troupe.
Electric Cabaret are probably the most skilled exponents of improvised group street theatre in the UK.
This works brilliantly for ensemble living mannequin acts. Acts can be combine static or roaming action, in stylised unison to create a wonderful spectacle.
Check out the Gold Living Mannequins in the gallery.
We can tailor the Living Mannequins costume and make up to suit you needs.
Check out more pictures of the Gold Living Mannequins
Silver Living Mannequins in the Gallery.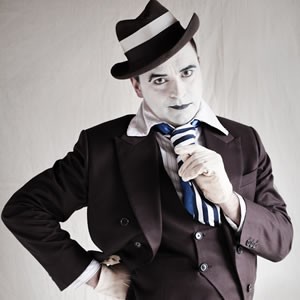 latest Nike Sneakers | Nike, adidas, Converse & More