Mime Artists and the Silent Clown
Now in Any Colour for Hire.

'Richard Jones was absolutely captivating and engaging. It was wonderful to see an artist grab the attention of every group so quickly and hold their attention for so long in complete silence.' Erica Martin Royal and Derngate Theatre - Coneections Festival - National Theatre. Our Mime Artists have recently been working in international fashion shows and fronting national health campaigns in 2014
Mime Artists specialising in blending situational comedy, improvisational madness,
illusionary mime and abstract conceptual tomfoolery.
• Our Mime Artists are great for bringing humour to your event.
• Our Mime Artists add hundreds of magical comic moments.
• Our Mime Artists can create spectacle up close and from afar.
• Our Mime Artists blend odd moments to help break the ice.
• Our Mime Artists can act as the glue by bringing
fast paced spectacle, funny nonsense and unusual oddities.
The result brings smiles and hilarity to any event.
'Their energy and commitment to characters are second to none' full quote below

Why not add to the fun! Mime Artists working as a group.
More than one mime artist increases the possibilities,
our mime artists are able to work in tandem or as an ensemble,
increasing the impact and area covered.
We specialise in the mime artist ensemble, that is mime artists working as a
tightly organised troupe.
'When working in ensemble they are a force to be reckoned with.'- full quote below
The Workings of a Mime Artist and Mime Artists.
Solo Mime Artist - solo mime is one of the most skilled of entertainment genres. A mime artist has to create interest, excitement, empathy, narrative and humour whilst remaining silent. They constantly discover the 'moment' and those moments might be completely different and need different emotions from the last. This sensitivity and awareness are key to being able to perform appropriately and fantastically. The mime artist's greatest skill is being able to do all this and judge it right by finding the appropriate level of engagement with the audience whilst continually generating spectacle, comedy and imaginary plots. Done well it is a captivating experience, fun for all and very rewarding for the mime artist.
Group mime - has all the complexities of solo mime with the added issue of working as an ensemble and not as a group of solo mimes. The mime artists need to have a good level of understanding and trust in order to traverse and perform with a unity.
What the agents say:- 'Electric Cabaret never cease to surprise me.
Their energy and commitment to characters
are second to none and when working in ensemble,
they are a force to be reckoned with.
Hard working and reliable, I can honestly say
they are one of my favourite groups and I try to use them wherever I can.
I can guarantee that they will be a delight to watch and that my guests or clients will be truly happy.'
Alex Hogg , Director - Big Hand People 2013
French Mime Artist and other Themed Mime Artists.
Theming mime artists is very easy.
The most obvious and common is the French Mime Artist theme.
Suitable for French themed events, Moulin Rouge nights,
French Markets and French Bastille day celebrations.
Apart from the French themes we have performed mime waiters, mime bell boys, mime chefs, mime elves,
mime robots and many many more more.
Silent Clowns and of course - Charlie Chaplin
Silent clowns get no more famous than Charlie Chaplin,
and we offer a Charlie Chaplin inspired act in homage to the great man.
Our Silent Clowns of yesteryear are clown/mime variations who can be themed to specific eras. For example Charlie Chaplin inspired clowns from the silent movie era; gangster clowns from the 1940's; silent clowns right up to the present day and contemporary clowns.
Check Out More Mime Pictures in the Galleries. Click here.
Great Mime Possibilties.
Check Out More Mime Artist Videos in the Galleries. Click here.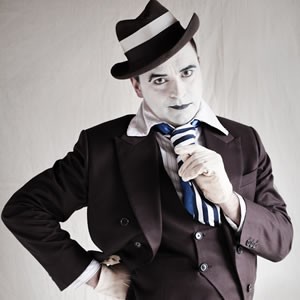 We have a vest selection on Mime costunes and colours.

best Running shoes brand | Air Jordan Release Dates Calendar